Did you see this flag flying on the Town House on the 8th February 2020?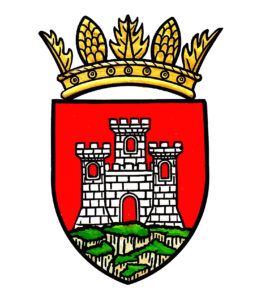 Did you wonder what it was?
Did you wonder why it was flying?
It is the official coat of arms granted to the Royal Burgh of Dunbar Community Council by the Lyon Court.
It is very similar to that of the former Royal Burgh of Dunbar.
The difference is, that the new one is surmounted by a coronet appropriate to a community council.
Both warrants can be seen in the Town House.
It was flown on the 8th February because on the 8th of February 1370 David II second, King of Scots[son of Robert the Bruce] granted a charter to Dunbar and the Community Council wanted to commemorate the anniversary.
This was an act of great importance in the History of Dunbar.
Before that the Burgh would have been a baronial burgh with limited rights but the evidence for this is lost.
The new charter came about because the Royal Burgh of Berwick on Tweed had been captured by the English and the King had lost the customs dues on the profitable wool and other trade from and to the Border abbeys which was passing through Berwick.  To remedy this he authorised a port at Dunbar and a customs house so that he would make up for this loss.  The port was to be established at Belhaven. Dunbar was not particularly convenient and in fact a lot of trade passed through Haddington and Aberlady.
It was intended that we would focus on this anniversary in Civic Week but this has had to be modified. It has been suggested that I should share some historical snippets with you, but I feel I should share another possibility with you first.
Most of us are having more leisure and need some exercise. An updated issue of the Walk Round Dunbar which I produced in 1970 is available from the Dunbar History Society.
A great body of local history is available in various publications.
East Lothian Antiquarian and Field Naturalists' Society has put all their publications on the web.
This is a huge treasure trove of articles about East Lothian. It has also put on the seven volumes of the Fourth Statistical Account of East Lothian which is an account of the area in the period from 1945-2000.
Stephen Bunyan,
Chairman emeritus DCC
29 03 20